_____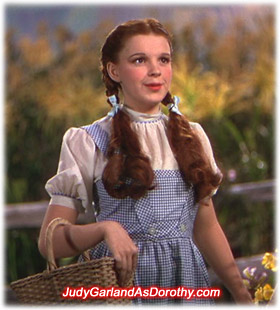 Judy Garland performed on stage with her two older sisters, and she appeared in seven movies prior to her acting role as Dorothy in The Wizard of Oz (1939 film), so she came into the role with plenty of stage and screen experience.

Although Judy Garland was an option to play Dorothy for Metro-Goldwyn-Mayer (MGM) film studio, she wasn't guaranteed as there were other young actresses in Hollywood who were also considered to play the part. The favourite for the role was Shirley Temple because she was a popular child star, and the most sort after for "little girl" roles in those days. She was only 10 years old, and Judy Garland was 16 at the time.

The problem was, Shirley Temple was under contract to 20th Century Fox, and they refused MGM's request to borrow her. It didn't really matter anyway because the producers at MGM always thought her singing abilities were inadequate for the scope of the role. A year later, 20th Century Fox starred Shirley Temple in their own fantasy film, The Blue Bird (1940 film), which was a failure and marked the beginning of the end of Shirley Temple's career.

MGM also had two other child actresses in consideration for the part of Dorothy. They were Deanna Durbin and Bonita Granville but the girls were only outside chances, being contracted to rival film studios. At the end of the day, common sense prevailed and MGM decided to pick their own contracted player in Judy Garland due to her acting and vocal talents, as well as her good looks.
_____