_____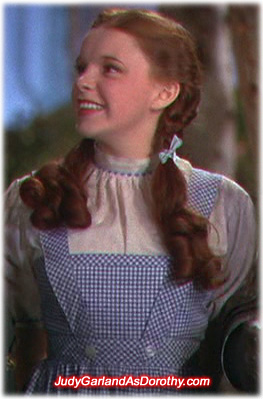 In the classic 1939 MGM movie The Wizard of Oz, the starring role of Dorothy was played by Judy Garland, who was a gorgeous 16 year old teenager at the time of filming.

The character of Dorothy in the movie is meant to be an orphaned 12 year old girl who lives on a farm in Kansas with her Auntie Em and Uncle Henry. So in order to make Judy Garland look younger than her sweet 16, she had to wear a special corset to make her chest look flatter and wear a blue and white checked gingham dress and a white top with puff sleeves all to make her look much younger. Her skirt had pleats starting at the waist, and the length of the dress hit just below her knees.

In reality, Judy Garland's dress and blouse were not white but pale pink. True white did not photograph in Technicolor cameras properly, and made the blue of her checked dress seem too bright. The 3-strip Technicolor process used back in the late 1930's for The Wizard of Oz couldn't record true colors with true-to-life fidelity, so colors were adjusted so that they would appear onscreen as the desired color.

The costume records for The Wizard of Oz where thrown away, so nobody knows for sure how many Dorothy dresses for Judy Garland were actually made. However, it is believed that MGM film studio made at least 10-12 of the final dress Judy wore in the film, so she could change them out frequently during production because she would sweat a lot from the hot lights.

Her dress is one of the most recognisable in film history, and Hollywood's most iconic costumes owned. Back in the old days, the studio were careless with old props, costumes, scripts, and other materials from The Wizard of Oz, unaware of their increasing value as memorabilia.

When production finished, some of the costumes were packed up and put away in deep storage for 30 years, left to rot, or workers would just take souvenirs without permission, aware that their employer did not particularly care. Also, the Dorothy dresses worn by Judy Garland were recycled to be used in other movies, so most of them did not survive after production. Her dress were not bought, but all made originally in-house by the costume department at MGM.
_____